Vtiger News: 7.1 Feature – Duplicate Record Prevention
If you have not heard yet, Vtiger announced the release of 7.1 RC this week (here).
We want to give a little more detail about the 'duplicate record prevention' feature. This feature is a wonderful capability that has been passed down from Vtiger On Demand. It keeps your database clean by preventing new duplicate records.
How Does 'Duplicate Record Prevention' Work?
This feature is only for when a user or external application is creating a new record

Whether you're in quick-create or full-create, this feature works the same way
Checks the fields you selected when enabling this feature

Does not check for duplicates when editing a record
Different duplicate prevention features:
Import already has a duplicate record prevention feature for importing records
You can also check for existing duplicates in list view with the "Find Duplicates" feature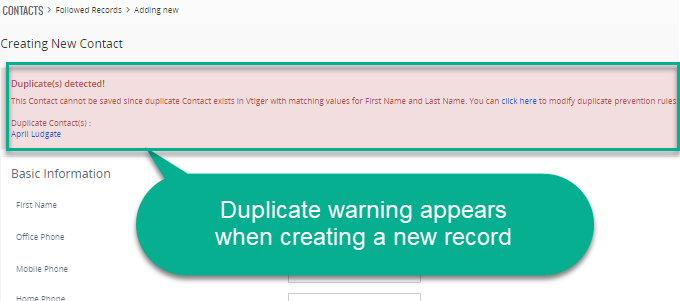 How to Set-Up the 'Duplicate Record Prevention' Feature:
Step 1 & 2: Simply go to the Global Navigation (Hamburger Icon) and then Settings > CRM Settings > Module Management > Module Layouts & Fields > Duplicate Prevention
Step 3: Select the module from the picklist
Step 4:

Click the Yes / No Button to turn on the duplicate check
Select the fields from the records that you want checked for duplicates
Select the action to take from the picklist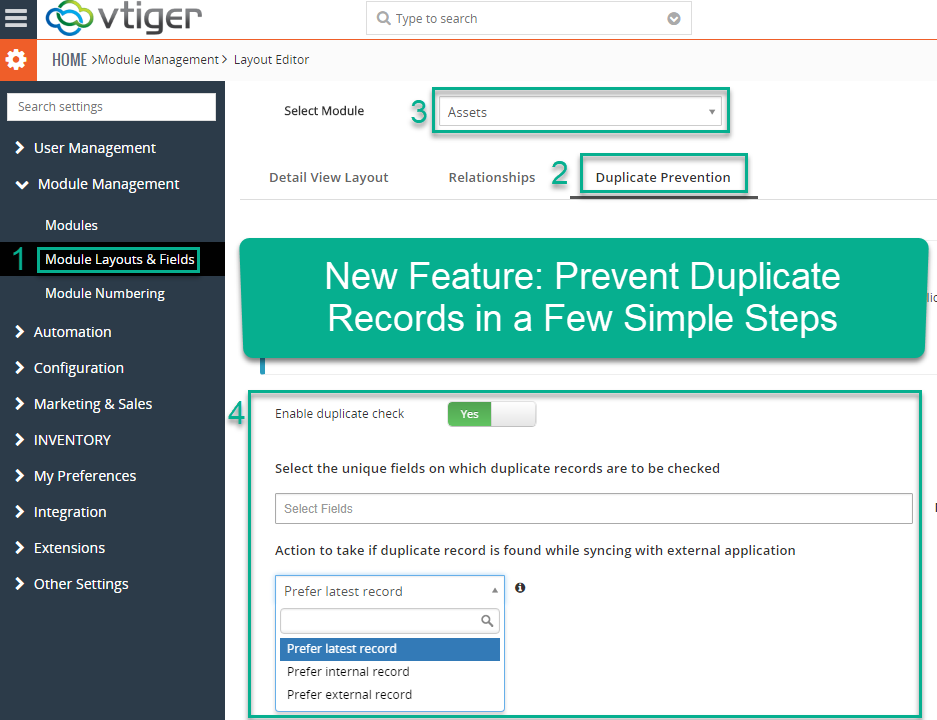 Find out more about the new features. We wrote about the 'follow a record' feature (here).
Contact us to learn more or for help with your Vtiger CRM!