Vtiger Customization: Pinned Modules Improve Vtiger 7 Global Navigation
Many people love the global navigation in Vtiger 6 and how the modules stay at the top of the screen. We created a feature in Vtiger 7 that pins our client's most useful icons to appear when users login into Vtiger. This way the modules are easy to find and navigate. We also created unique modules for this client, that categorize their work more properly.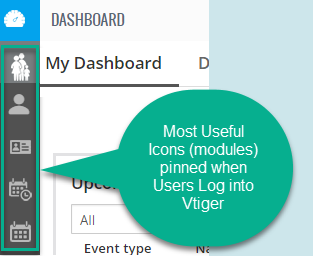 Contact us to learn more or for help with your Vtiger CRM!